Bentley Styling
The Bentley Continental first produced in 2004 is a beautiful car, however technology has advanced leaving the factory infotainment Sat-Nav and smartphone connectivity very much outdated. Therefore Bentley Conversions are proud to offer a replacement upgrade of the original factory infotainment system with one of the latest most sophisticated Touch Screen Infotainment Satellite Navigation systems available.
All the original controls on your Bentley are integrated into a new system, including speakers and steering wheel controls. This upgrade is a must for all Bentley owners, providing more up to date features than the new Generation 2 Bentley Continental and more importantly great functionality & connectivity to enhance your driving experience.
Kenwood DMX7018DABs
Steering Wheel Control Adapter
Bentley Fitting Kit
Installation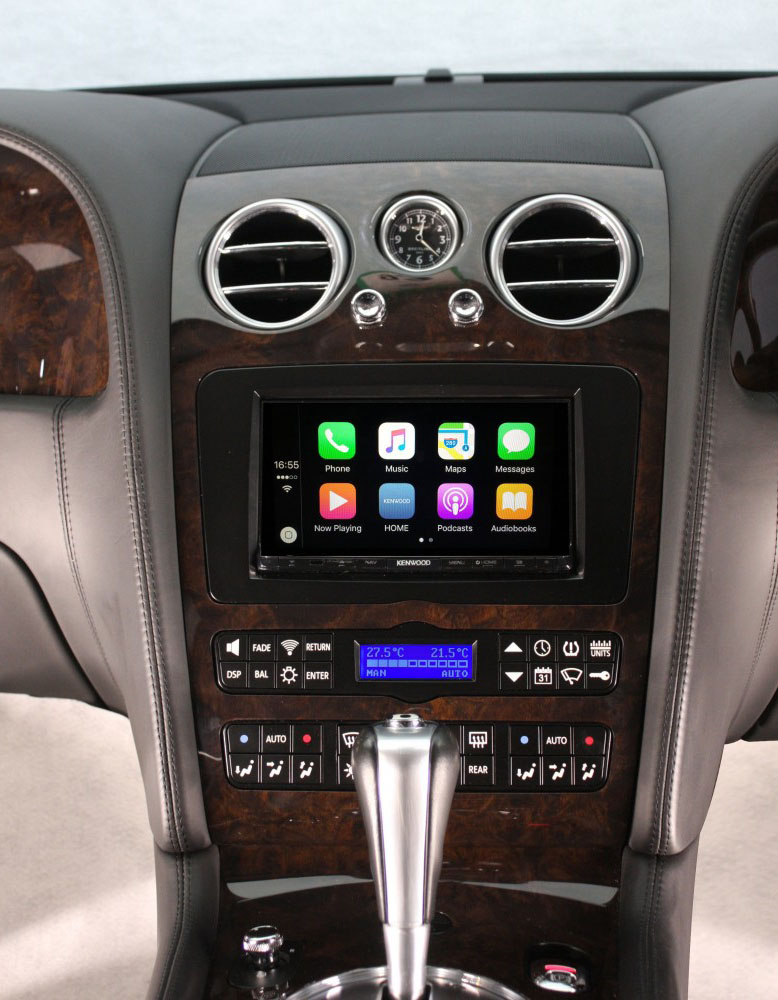 Bentley Interiors
Wood change conversion service
We offer a wood change conversion service which means that all wood trim sections in the car can be changed or refurbished to compliment the new leather interior. The options available are as follows:
High gloss piano black
Hydro carbon liquid effect
Wood trim effect
Bentley Leather
One of the biggest faults on the Bentley GT is the leather headlining has a tendency of coming unstuck after a time. This is due to the foam underneath the leather crumbling. We professionally remove the headlining from the vehicle and take it back to the original fibreglass board, refoam and trim. Using high temp adhesive this will hold the leather for many years to come.
Bentley Custom Mats
Hand made luxury mats made from a thick pile carpet. You can have the classic Bentley logos or even your initials. These can be made in original Bentley colours and bound in any colour to match your new interior. Sets off the interior really well.
If you're looking to stand out from the crowd, have something bespoke, then having your Bentley wrapped or 'colour changed' is the way forward.
View our Vehicle Wrapping service here.